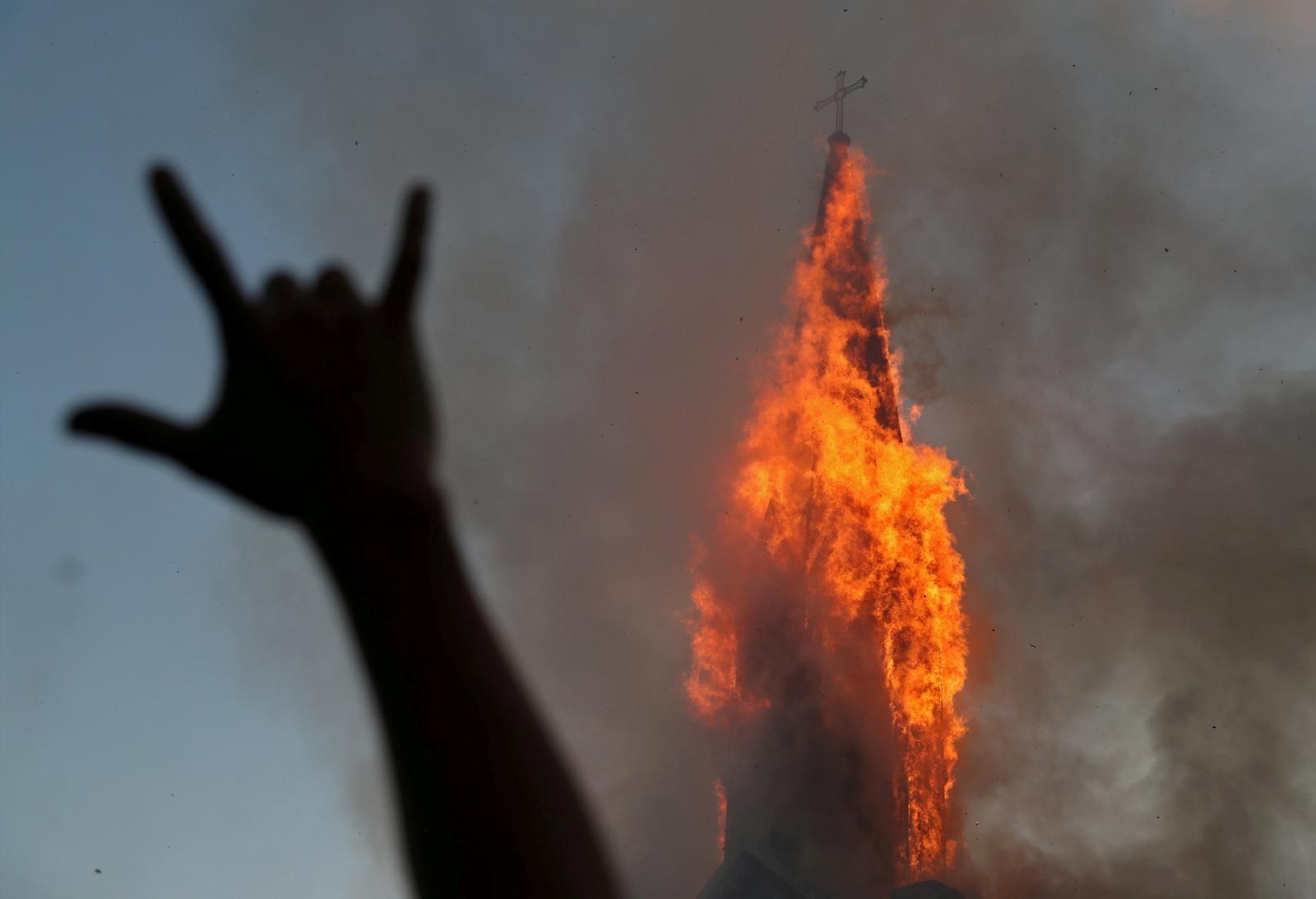 Two Catholic churches were burned in Santiago, Chile during violence that erupted during the later hours of October 18, a day many spent peacefully celebrating the one-year anniversary of a protest movement for equality. Iglesia de la Asuncion and San Francisco de Borja were the two oldest churches in Santiago, dating from 1876. Little is left of the interior of either church and there is striking video of the spire of Iglesia de la Asuncion collapsing as protesters cheered. The protest against inequality began a year ago with public sentiment against a hike in metro fairs in Santiago. The protests against the increased metro rates quickly grew into a more general movement against inequality in the country.
Thousands gathered last Sunday to celebrate the anniversary of the protest movement and to urge a positive vote on a referendum to re-write the nation's constitution, which had been adopted during the years of the oppressive Pinoche regime (1973-1990). Celebrations during the day were peaceful but, similar to what has happened in cities across the U. S., when night came many turned to violence, rioting, looting, then vandalized the churches and set them ablaze.
The Chilean bishops' conference issued a statement condemning violence and the burning of the churches, while at the same time offering general support for the movement for equality: "These events over the past few hours in Santiago and other cities in Chile show that there are no limits to those that exacerbate violence. … These violent groups contrast with many others who have demonstrated peacefully. The vast majority of Chile yearns for justice and effective measures that help overcome inequality. They do not want more corruption or abuse; they expect dignified, respectful and fair treatment."
Reporting thus far has not speculated on why the churches were targeted, but San Francisco de Borjas is the home to ceremonies for the national police, who are unpopular with the people over accusations of oppressive tactics, and there has been widespread dissatisfaction among the population with how the bishops of Chile have handled accusations of clerical sexual abuse.
However, across the globe Catholic and other churches have become the the targets of attacks, especially by radical Muslims and secularists. Europe has seen an increase in such attacks. International Christian Concern reports that between 50,000 and 70,000 Christians have been murdered in Nigeria by Boko Haram and Fulani militants. Christians have suffered attacks on themselves and their churches across Africa, the Middle East and Asia. The recent violence in the U. S. against police, businesses and persons has not spared churches, either. Several attacks against churches have been reported, including the desecration and beheading or toppling of statues of Jesus and the saints.
It is during times like these that we must recall that we worship a crucified Lord. Jesus did not promise a comfortable life in a world that loves us. Rather, He promised that, since the world hated Him, it would hate us. We have an obligation to live lives that reflect that values and promises of Jesus. Any sin on the part of any believer will be interpreted by enemies of the Church as endemic and evidence of institutional corruption and exploited as such to discredit the Church or even promote violence against her. It has been such for centuries. Our response, as always, should be to live as faithful followers of our Lord, take legitimate action to protect the rights of Christians and all believers in a secular society, and take comfort in the promise of new life in Christ. Our Lord was crucified, yes, but He also was raised from the dead. We will share in the resurrection to new life if we remain faithful to Him. "In the world you have tribulation; but be of good cheer, I have overcome the world" (Jn 16:33).
Be Christ for all. Bring Christ to all. See Christ in all.