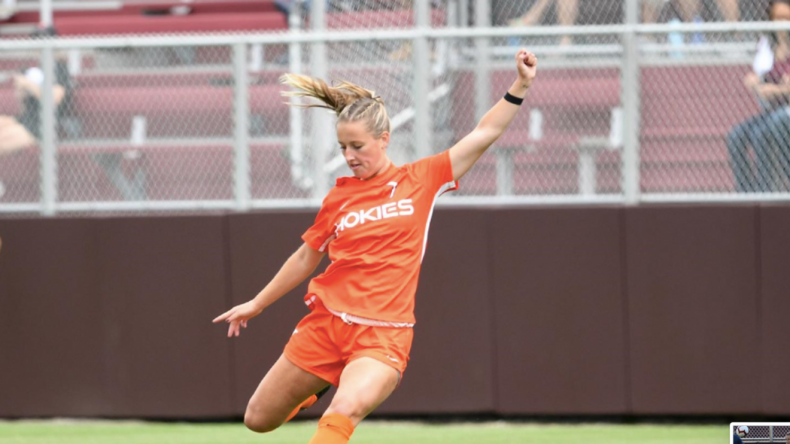 Kiersten Hening, former player for the Virginia Tech soccer team, is suing the Va Tech soccer coach, Charles "Chugger" Adair, for forcing her off the soccer team after she refused to show her support for the Black Lives Matter organization by taking a knee prior to one of the team's soccer matches.
Hening, who had been a starting midfielder and defender, claims that Adair arranged for a reading of a unity statement written by the Atlantic Coast Conference prior to a match against the University of Virginia on September 12, 2020. The entire team knelt for the reading except Hening and another player, also a starter for the team. The other player's parents, however, had informed Adair of their daughter's intention not to kneel and warned him against retaliating against her. According to the lawsuit, Adair then focused his ire on Hening during halftime. The lawsuit reads, "At the next opportunity — halftime of the Virginia game — Coach Adair berated Hening for her stance. … He singled her out and directly attacked her, pointing a finger in her face. He denounced Hening for 'bitching and moaning,' for being selfish and individualistic, and for 'doing her own thing.'" The lawsuit, which also notes that Hening refused to wear a Black Lives Matter mask, armband and wristband as per the school's suggestion, which Adair supported, is suing Adair for violating Hening's First and Fourteenth Amendment rights. "While Hening supports social justice and believes that black lives matter," the lawsuit reads, "she does not support the BLM organization. She disagrees with its tactics and core tenets of its mission statement, including defunding the police and eliminating the nuclear family."
Hening alleges that Adair punished her for refusing to kneel by benching her. Hening had played most of Va Tech's soccer games her first two seasons, and even played the entire match against Virginia. After that game, however, she barely played at all. She claims her benching and on-going harassment from Adair forced her to quit the team. Hening is suing to be reinstated to the team, for financial compensation, and for Adair to have training in the First Amendment.
There are problems when sports teams take on political or social agendas. First, which causes is a team going to champion, and why? There are any number of worthy causes out there, and police reform is one of them. But, in adopting a particular cause, a sports team faces a second dilemma of possibly associating itself with organizations that are not necessarily as noble as the cause espoused. Black lives matter is a noble cause. The Black Lives Matter organization is not so noble. By its own admission, it is Marxist in orientation, it supports defunding the police, it calls for the dismantling of the nuclear family, and it is fiercely pro-abortion. As such, it is certainly going to alienate many people who support the sentiment that Black lives matter, but have no desire at all to be associated with such an organization and its "core tenets." This leads, as in Hening's case, to a third problem. It is one thing for a sports team and its coach to adopt a particular cause. It is quite another for the team and/or coach to demand that every member of the team adopt that particular cause, or demonstrate their support in a particular way. There are many individual athletes who believe that Black lives matter. Not every one of them is supportive of kneeling during the anthem or kneeling in solidarity with a unity statement some particulars of which they may oppose. It is not for a sports team, coach, or school to demand that every individual demonstrate support for an organization or a cause just because the team, coach, or school expect it of them. Such support would hardly be heartfelt, anyway (and I suspect there were other members of the Va Tech soccer team who were not entirely on board with Adair but who decided to keep their mouths shut, knowing the temperament of their coach). It is certainly not for a team, coach, or school to punish an athlete for refusing to tow the line in violation of their conscience.
Be Christ for all. Bring Christ to all. See Christ in all.