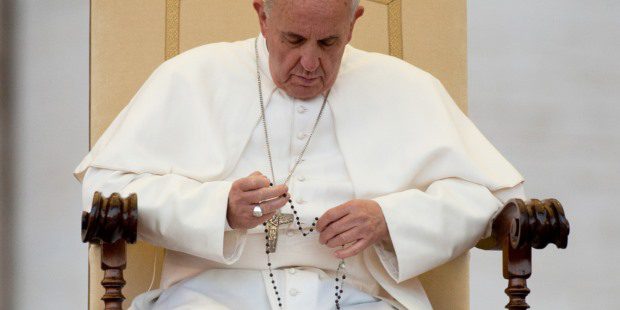 Pope Francis is encouraging Catholics around the world to dedicate the Marian month of May to pray the Rosary for an end to the COVID-19 pandemic.
The Pontifical Council for Promoting the New Evangelization issued a statement saying that, "The initiative will involve all the Shrines of the world in a special way, so that they might encourage the faithful, families, and communities to recite the Rosary to pray for an end to the pandemic." The statement went on to say, "It is the heartfelt desire of the Holy Father that the month of May be dedicated to a prayer marathon dedicated to the theme, 'from the entire church an unceasing prayer rises to God."
Pope Francis will open the month of prayer with a broadcast of the Rosary on May 1 and close the month with another Rosary broadcast on May 31. As well, each day a livestream guiding the faithful in prayer will be broadcast from one of thirty Marian shrines from around the world, beginning at 6pm Rome time (Noon EDT).
Pope Francis spoke recently of his prayers for an end to the lockdowns and restrictions on religious worship. "Dear brothers and sister," he said, "once again this year, in various places, many Christians have celebrated Easter under severe restrictions and, at times, without being able to attend liturgical celebrations. … We pray that those restrictions, as well as all restrictions to freedom of worship and religion worldwide, may be lifted and everyone be allowed to pray and praise God freely."
Last month, during his Palm Sunday Mass, Pope Francis spoke of the weariness the pandemic has caused for so many around the world. "The Devil is taking advantage of the crisis to sow distrust, desperation and discord," Francis said. "We meet the faces of so many brothers and sisters in difficulty. Let us not pass by, let us allow our hearts to be moved with compassion, and let us draw near."
Please join Pope Francis in dedicating May to praying the Rosary for an end to the COVID-19 pandemic.
Be Christ for all. Bring Christ to all. See Christ in all.