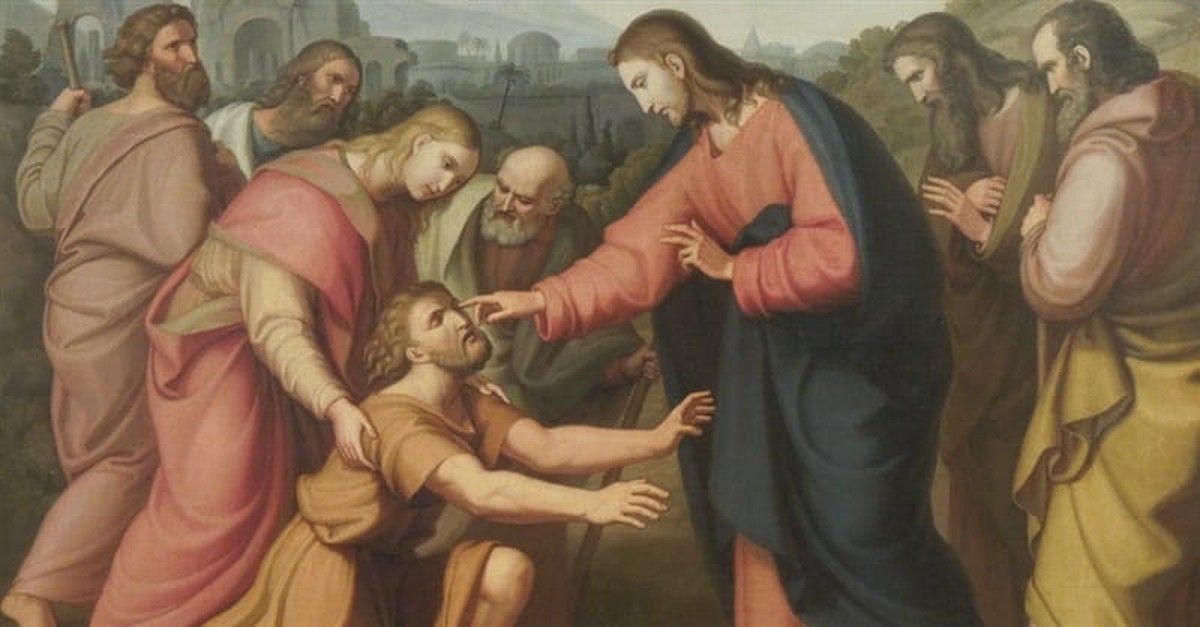 Mark 10:46-52
As Jesus was leaving Jericho with his disciples and a sizable crowd, Bartimaeus, a blind man, the son of Timaeus, sat by the roadside begging. On hearing that it was Jesus of Nazareth, he began to cry out and say, "Jesus, son of David, have pity on me." And many rebuked him, telling him to be silent. But he kept calling out all the more, "Son of David, have pity on me." Jesus stopped and said, "Call him." So they called the blind man, saying to him, "Take courage; get up, Jesus is calling you." He threw aside his cloak, sprang up, and came to Jesus. Jesus said to him in reply, "What do you want me to do for you?" The blind man replied to him, "Master, I want to see." Jesus told him, "Go your way, your faith has saved you." Immediately he received his sight and followed him on the way.
What I find interesting about this Gospel is that the blind man, Bartimaeus, was the one who initiated his encounter with Jesus. He cried out to Jesus once he heard that Jesus was walking by: "Son of David, have pity on me." Yet, even still, when Jesus responded by asking the disciples to call Bartimaeus to him, their words of counsel to him were to take courage. Why would the disciples think that Bartimaeus would require courage in response to Jesus having called him, when it was Bartimaeus who had been calling out to Jesus? Perhaps it was because, in their experience accompanying the Lord, they knew that Jesus' response to those who call out to Him often transforms their lives in ways they do not expect.
I think that's true of us today. We call out to Jesus, to God, when we are in desperate straights, or when there is something we really need, or perhaps only want and have convinced ourselves we need. That's fine. We do have legitimate needs. We do require help at times. Bartimaeus truly was blind, and he knew that Jesus was a healer, and he knew that if he could be healed of his blindness his life would be transformed. So, he cried out to Jesus and, when Jesus asked what he wanted, was very straightforward in his reply: "Master, I want to see."
So, it's good to recognize a need we have and to turn to Jesus for help. But, we ought to be aware that Jesus' response may transform our lives in ways we do not expect. This is not because Jesus demands this of us, necessarily. Jesus gives out of love, not because He expects something of us in return. After all, after giving Bartimaeus his sight, he told him, "Go your way, your faith has saved you." He did not demand anything in return from Bartimaeus. His gift was a grace, and grace is always freely given. No, it was Bartimaeus who realized after his encounter with Jesus that he could not simply go on his way. He realized that his way was now Jesus' way. So, he did the only thing he could do, and followed Jesus.
This is what happens to people. They encounter Jesus. Jesus graces them with the power of His love. This love manifests itself in any variety of ways: a healing, a recovery, a changed heart, a changed life. And those who are changed by their encounter with Jesus know that they cannot simply go on their way. They must follow Jesus now, making His way their way. This is why the words of counsel the disciples gave to Bartimaeus when Jesus called him was to take courage. They knew, because the same thing had happened to them, that Bartimaeus would never be the same, and not just because he would now be able to see with his eyes. Now, he would be able to see with his heart who Jesus really was. The only possible response was to follow Him. And to follow Jesus would require courage.
It still does.
Be Christ for all. Bring Christ to all. See Christ in all.