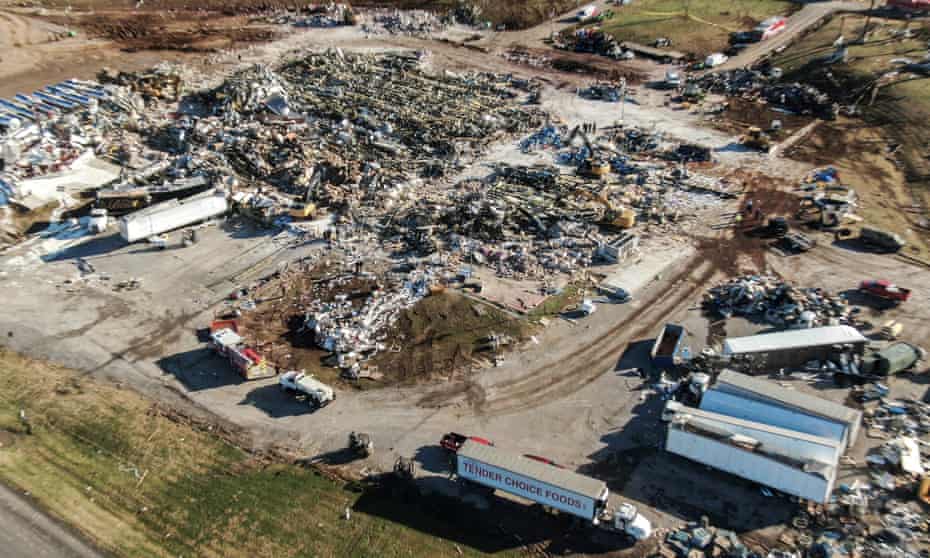 Devastating tornadoes ripped through several states on Saturday, December 10, destroying much in their paths. Mayfield, KY was hit especially hard, the town of 10,000 essentially leveled.
Bishop William Medley of Owensboro in western Kentucky visited St. Joseph's Church in Mayfield. The church was destroyed by the tornado. He said that Fr. Eric Riley, pastor, "preached on the Advent and Our Lady of Guadalupe themes of hope and joy. Neighboring parish St. Jerome of Fancy Farm welcomed them." Bishop Medley said that the diocese will "offer immediate help and services" for those made homeless by the tornado or in need of emergency financial help through the offices of Catholic Charities.
Pope Francis sent a telegram expressing his sadness in learning of the devastating caused by the tornadoes. The Holy Father "offers heartfelt prayers that almighty god will grant eternal peace to those who have died, comfort to those who mourn their loss, and strength to all those affected by this immense tragedy." The telegram went on to say, "With gratitude for the tireless efforts of the rescue workers and all engaged in caring for the injured, the grieving families and those left homeless, Pope Francis invokes upon all engaged in the massive work of relief and rebuilding the Lord's gifts of strength and generous perseverance in the service of their brothers and sisters."
110 people, many of them parishioners of St. Joseph, including a number of migrants and Latinos, were working around the clock in a candle factory when the tornado hit. In Illinois, an Amazon distribution center, was hit badly and six people were killed. Investigations are going to take place on why employees were still working when tornadoes were bearing down on their communities. As of Monday, over 90 of the 110 workers at the candle factory in Mayfield have been accounted for and are safe.
Donations to assist victims of the tornadoes can be made to Catholic Charities: https://www.catholiccharities.us/campaign/ccusa-disaster-relief/c353051.
Be Christ for all. Bring Christ to all. See Christ in all.