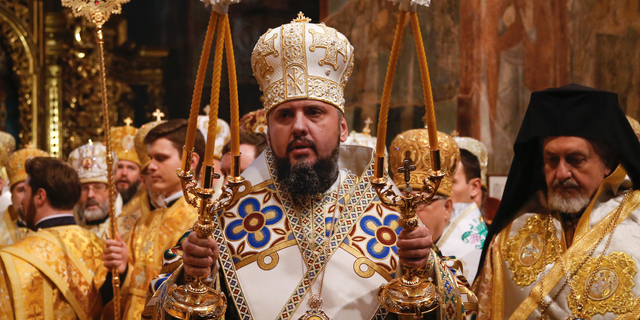 I have previously posted on the relationship between the Ukrainian Orthodox Church-Moscow Patriarchate (UOC-MP) and the Orthodox Church of Ukraine (OCU). Now, an interesting phenomenon has developed in light of Russia's invasion of Ukraine. It seems that many parishes in Ukraine tied to the UOC-MP, which is under the patriarchate of Kirill in Moscow are switching their allegiance to the OCU, under the leadership of Metropolitan Epiphanius, and based in Kyiv.
Metropolitan Epiphanus said, "In recent days, we are seeing the beginning of a wave of transitions from the ROC [Russian Orthodox Church] to the OCU. And in almost a few days we have already made more than 50 transitions. Now we say that about 100 communities have already decided, they are already in the process of transition."
The Russian Orthodox Church under Patriarch Kirill cannot do much to stop the shift, which represents a significant loss to their numbers and their credibility in Ukraine. A concern, at least from the ROC perspective, is that this will lead to more demands for autocephaly in other former Soviet regions and, perhaps, even within Russia itself. Autocephaly essentially means that a church is free-standing, and not under the pastoral authority of the patriarch of another church. Even important monasteries in Ukraine, including the New Athos Monastery in Lviv, have begun switching allegiance.
Ukrainian Orthodox Christians, it seems, no longer want to be associated with a church that they regard as siding with Vladimir Putin in his invasion of their homeland. Patriarch Kirill has remained largely silent on the invasion, though other Russian Orthodox leaders have called for an end to the war. Kirill's silence is interpreted as agreement with Putin's desire to restore the legacy of a "greater Russia." It may be that part of Putin and Kirill's legacy will be the decimation of the ROC in Ukraine.
Be Christ for all. Bring Christ to all. See Christ in all.