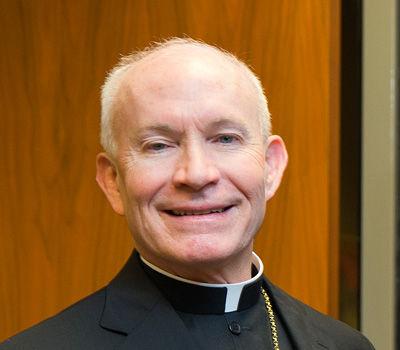 Archbishop George Lucas of Omaha and Bishop Donald DeGrood of Sioux Falls are the most recent bishops to have adopted policies for the Catholic schools in their respective dioceses that affirm Catholic teaching on sexuality and require all faculty, staff, students, and parents to abide by a Catholic understanding of sexuality in these schools. As such, students will be addressed and acted toward by faculty and staff according to their biological gender. They will be required to wear uniforms and use bathrooms consistent with their biological gender, and they may only participate in sports according to their biological gender. While bullying of any student will not be tolerated, refusal to abide by these policies by students or parents may result in expulsion or rejection of enrollment. Refusal to abide by the policies by faculty or staff may result in termination.
Good. This is what bishops are supposed to do – uphold the Catholic faith even in the face of tremendous social, cultural, or political pressure. It does no good to claim a faith if that faith is going to be sacrificed with every challenge. Pope Francis has called gender ideology "demonic," and it is. It claims an understanding of sexuality contrary to God's revelation in Christ and contrary to biology and common sense.
Gender ideology rests on the presumption that gender pre-exists the physical body. It assumes that it is possible for a pre-existent gender to be mistakenly placed inside the wrong body, so that by some accident or mistake of God or nature a female identity can be placed inside a male body, or vice versa. It presumes that a biological female really is a male person, or that a biological male really is a female. A transgendered person, then, is not suffering some sort of dysphoria or mental illness. No, he or she has come to the realization that they actually are the opposite sex of their biological self, or any number of dozens of other gender identities beyond male and female. This has led to the stupendously stupid claims that men can become pregnant and women can impregnate their partners. Apparently, too, gender is fluid enough so that a transgender person could be male today and female tomorrow. There is, as yet, no explanation of why this bizarre theory does not apply to other immutable characteristics, such as race or age, though some insist that it does and have claimed a race or age inconsistent with their actual race or age.
It is not for bishops or pastors to accommodate whatever attack on nature and God's revelation is all the current rage. It is for bishops and pastors to preserve faith and morals and instruct the faithful in what Christ has revealed to us through the one, holy, catholic, and apostolic Church.
Kudos to Archbishop Lucas and Bishop DeGrood and others who have had the courage and fortitude to stand against the winds of confusion and the perversion of nature. May others be quick to follow their example.
Be Christ for all. Bring Christ to all. See Christ in all.