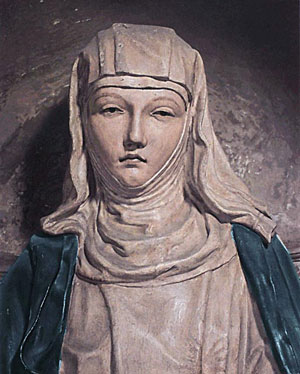 Today, April 29, is the Memorial of St. Catherine of Siena. St. Catherine of Siena was one of the most influential and remarkable figures of medieval Christianity and, indeed, of the entire history of the Church. She was canonized by Pope Pius II in 1461 and declared a Doctor of the Church by Pope St. Paul VI in 1970.
Born in Siena, Italy on March 25, 1347, she was the 22nd of 25 children of her parents, Jacopo and Lapa. Only half of her siblings survived to adulthood. Catherine herself was a twin, but her twin sister died in infancy. As a child, she was so joyful, her family nicknamed her "Euphrosyne," which is Greek for "joy." According to her spiritual director and biographer, Bl. Raymond of Capua, OP, Catherine received her first vision, one of Christ seated on His throne and surrounded by Apostles, when she was only six years old. She would receive many more visions over her lifetime. Bl. Raymond wrote that Catherine dedicated her life to God at the age of seven. While she never became a religious, she did join the Third Order Dominicans.
When Catherine was sixteen, her sister died, and her parents wanted her to marry her widowed husband. Catherine protested, beginning a fast and cutting her hair short to make herself less attractive. Catherine intended to live apart from the world, neither marrying nor entering a convent. She dedicated her life to serving her family, regarding her father as a figure of Christ, her mother as a figure of the Blessed Mother, and her siblings as figures of the Apostles. Seeing her family in this way allowed her to serve them humbly, and her father eventually conceded to allow her to live her life as she desired. She lived in her family home, but in isolation, only seeing others when she saw a need and would give them assistance from her own family's resources (usually without asking her father first!).
Our Lord had other plans for Catherine, however, than a life of solitude in her family home. At the age of 21, Catherine experienced what she called a mystical marriage to Christ, including a wedding ring she insisted only she could see. Catherine came out of her isolation in response to the Lord's wishes and now dedicated her life to serving the poor and ill in Siena. She soon attracted others to her charitable work. Presently, Catherine began to travel throughout Italy encouraging peace among the warring city-states and loyalty to the Pope. She wrote letters to political and religious leaders, including a long correspondence with Pope Gregory XI, encouraging reform of the clergy and the Holy Father's return to Rome. In 1309, the Pope moved to Avignon, a town on the French Mediterranean coast, because of a conflict between the Holy See and the French monarchy. Catherine traveled to Avignon in 1375 to convince Gregory to return the papacy to Rome. In 1376, Gregory did so. Catherine herself returned to Siena and founded a monastery for women in 1377.
After returning to Rome, Pope Gregory called on Catherine to negotiate a peace between Florence and Rome. During her time in Florence, Pope Gregory died, and violence erupted in Florence, where Catherine was almost killed. Peace was finally achieved in 1378, and Catherine safely returned to Florence, but not for long. That same year, the new Pope, Urban VI, called her to his court in Rome. It was the time of the Western Schism, where two men (one in Rome, one in Avignon) claimed to be the true Pope. Catherine spoke with and wrote various leaders, both political and religious, attempting to convince them of Pope Urban's legitimacy. Catherine died in Rome two years later, on April 29, 1380. She had practiced intense asceticisms, especially fastings, that likely compromised her health. Bl. Raymond ordered her to eat, but she told him she could not tolerate any food because of an illness. She began a swift decline in January 1380, lost the use of her legs the next month, and suffered a stroke shortly before her death. She was 33 years old.
St. Catherine was a great mystic. She received the stigmata in 1375 though, at her request, only she could see the wounds. She received the Blessed Sacrament daily, often relying on nothing other than the Holy Eucharist for sustenance. She wrote over 400 letters, her Dialogues, that became a spiritual classic. Her letters and prayers made her a significant figure in medieval Catholic literature, as well as Catholic mysticism and spirituality, and were largely the basis for her being declared a Doctor of the Church. Few persons, male or female, have had a greater impact spiritually and politically on the world than St. Catherine of Siena. She remains one of the Church's most popular saints and mystics, and an example of courage and wisdom in speaking truth to power.
O God, who set Catherine of Siena on fire with divine love in her contemplation of the Lord's Passion and her service of your Church, grant, through her intercession, that your people, participating in the mystery of Christ, may ever exult in the revelation of his glory, who lives and reigns with you in the unity of the Holy Spirit, God, for ever and ever. Amen.
St. Catherine of Siena, pray for us.
Sources: https://en.wikipedia.org/wiki/Catherine_of_Siena#Veneration
https://www.catholic.org/saints/saint.php?saint_id=9
Be Christ for all. Bring Christ to all. See Christ in all.