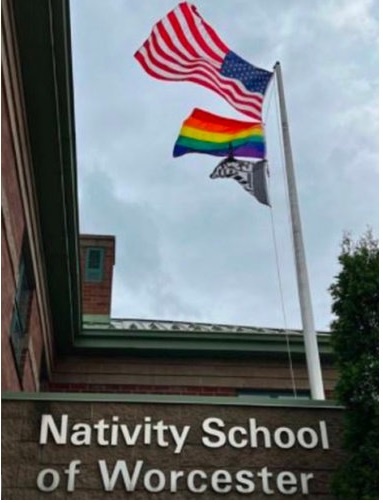 For several months now, Nativity School in Worcester, MA, a Catholic school founded and managed by the Society of Jesus (the Jesuits) has flown a Black Lives Matter and a Gay Pride flag in front of the school. Bishop Robert McManus, Ordinary of the Diocese of Worcester, has instructed Nativity to remove the flags, as they send messages that are contrary to Catholic faith and morals. The Black Lives Matter organization has its roots in Marxist ideology, opposes the nuclear family, is pro-abortion, and pro-gay marriage. The Gay Pride flag, Bishop McManus writes, indicates support for gay marriage and for the gay lifestyle. The Jesuits at Nativity have refused to take down the flags.
Bishop McManus published a decree on June 10 stating the following:
• The Nativity School of Worcester is prohibited from this time forward from identifying itself as a "Catholic" school and may no longer use the title "Catholic" to describe itself;
• Mass, sacraments and sacramentals are no longer permitted to be celebrated on Nativity School premises or be sponsored by Nativity School in any church building or chapel within the Diocese of Worcester;
• The Nativity School is not allowed to undertake any fundraising involving diocesan institutions in the Diocese of Worcester and is not permitted to be listed or advertise in the Diocesan Directory;
• The name of Bishop Emeritus Daniel P. Reilly must be removed from the list of the Board of Trustees of Nativity School.
This decree is effective immediately.
Bishop McManus cited his pastoral responsibility under canon law to maintain the Catholic integrity of Catholic schools, as well as the document "The Identity of the Catholic School for a Culture of Dialogue" published by the Holy See through the Dicastery for Catholic Education, which says that "Catholic schools are part of the Church's mission and have the great responsibility to bear witness through an education project clearly inspired by the Gospel. Catholic schools are ecclesial entities. As such they participate in the evangelizing mission of the Church and represent the privileged environment in which the Church's education is carried out."
In a letter dated June 15 and addressed to the school community, Nativity School President Thomas McKenney wrote that the school's flying of the flags does not represent "an endorsement of any organization or ideology" but that they fly the flags "in support of marginalized people." McKenney went on to write, "Nativity started flying the pride and Black Lives Matter flags following our students' (the majority of whom are people of color) call to express support for making our communities more just and inclusive."
President McKenney's justifications, even if sincere, are absurd. Does he really expect people who see the Black Lives Matter and Gay Pride flags flying in front of his school to not interpret them as an endorsement of the Black Lives Matter organization and the LGBTQ+ ideology? Is he that naive or that obtuse? Why does anyone fly a flag, if not as an endorsement of the organization or ideology represented by the flag? He may pretend to think or (actually worse) even truly believe this moronic justification, but he cannot seriously conclude that others will pretend or believe as he does. "Why do you support Black Lives Matter?" someone may ask President McKenney. Will he really respond, "Oh, we don't! We just fly the flag in support of marginalized people." McKenney is either a dolt, or he assumes that everyone else, including Bishop McManus, is.
As for supporting marginalized people or making Nativity School more just and inclusive, there are dozens of ways the staff and student body of the school can accomplish those goals without virtue signaling by flying these flags. Virtue signaling accomplishes nothing except causing others to question the sincerity and genuine commitment of those doing the signaling and, in this case, causing confusion and scandal among the Catholic faithful and wrongfully instructing Nativity's students. I would remind President McKenney that the purpose of a Catholic education is to educate young persons within the Catholic tradition and prepare them for the real world after school. It is not to follow the students' lead in determining what is truly Catholic, or to weigh them down with false ideas of what it means to be just and inclusive. Virtue signaling is neither just nor inclusive. It is self-congratulatory and pathetically self-righteous. I would also recommend to President McKenney that the fact that most of his student body is composed of people of color does not give him permission to reject Catholic faith and morals, and it's pretty lame to suggest that it does. The vast, vast majority of Catholics in the world, after all, are people of color.
President McKenney says he will appeal the bishop's decision to remove Nativity's Catholic identity. He has a right to do so. I hope he loses. Unfortunately, I have no expectation that Nativity will take down their flags in hopes of regaining their Catholic identity, regardless of the outcome of any appeal. It sounds like the school is being poorly managed by a group who cares more about the political and social ideology of leftist politics than they do about the Catholic tradition of faith and morals. I am forced to wonder why Nativity even wants to call itself Catholic, given their obvious ideological preferences.
Bishop McManus ought to be thanked for making the right decision. After weeks of back and forth with the management of Nativity School, it finally became obvious that they were not interested in being obedient to his legitimate authority or in proclaiming an authentic Catholic witness. More bishops need to grow backbones when it comes to addressing those Catholics under their pastoral care who regard themselves as their own personal magisterium, especially those who have assumed responsibility in forming our youth.
Be Christ for all. Bring Christ to all. See Christ in all.